Complete Auto Glass Replacement
From the windshield to the back glass, to rearview mirrors and door windows, you're surrounded by glass in your car. If it becomes damaged, rely on MAZ Auto Glass for complete auto glass repair in San Francisco, CA. We replace any and all glass types, as well as the mechanisms that power it. Our auto glass replacement and repair capabilities include:
Windshield repair:

Whether you've got a crack that spans the entire length of your window or just a little chip that needs to be fixed, we're equipped to handle the job. We're able to provide complete windshield replacement, as well as minor repairs to restore the integrity of your largest piece of automotive glass.

Door window repair:

From vandalism to accident repair, count on us for complete door window replacement when they get damaged. We handle the entire process: from the glass replacement to the actuator and anything else needed.

Auto window regulator repair:

More than just pure glass replacement, we can also handle the replacement of in-door parts—namely your window regulator. Give us a call for auto window regulator replacement and we'll set things right again.

Side mirror repair:

Lost your mirror backing out of your garage? Damaged mirror glass from a parking lot run-in? Whatever the case, our side mirror replacements will be done with OEM parts. The new part will look exactly like the old one, with no sign there was ever damage.

Back window repair:

Don't let creeping cracks in your back window cause problems. At the first sign of damage, schedule an appointment with us! With our back window replacement, we'll replace the pane and fix the damages so you can see the road clearly behind you.

Sunroof repair:

Your sunroof is a convenience, but it's not very convenient if it's damaged or non-responsive! We're adept at sunroof replacement and can restore the power to this luxury feature, so you can get back to cruising with the sun streaming down on you.

Rearview mirror repair:

It may be small, but your rearview mirror is important. A mirror that has fallen off or one with cracked glass will result in vision issues out on the road. We specialize in rearview mirror repair replacement to help you regain your awareness while driving.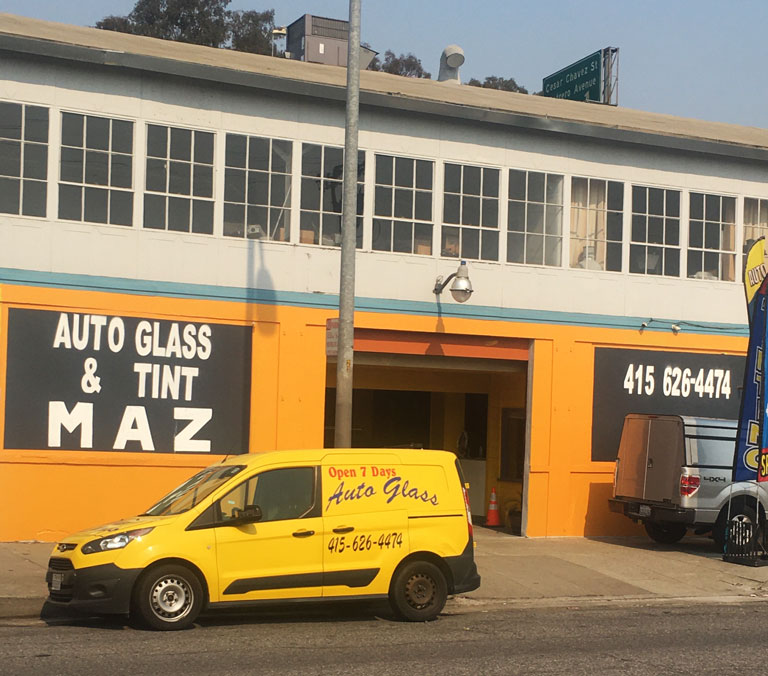 Tired of looking at cracks, chips blemishes and other abrasions on your auto glass? Let MAZ Auto Glass erase them! Give us a call today at
415-626-4474
to schedule service.
Contact Us